Big returns on a small investment.
The Pro-Turn ZX is the mower that's cracked the code for delivering great performance at a great value. Its solid construction will tackle the toughest commercial jobs and leave a beautifully manicured lawn in its wake. Don't let its price point fool you, this mower was built to not just exceed expectations but to redefine them.
FEATURES
Kawasaki FX Engine: Delivers reliable power and performance and is equipped with commercial canister air filtration for maximum power and torque, no matter how tough the conditions.
Seat Suspension: The seat is adjustable and has the new addition of a low-profile seat mechanism for added comfort.
Suspension Forks: Absorb those big impacts so your body doesn't, further improving the ride and decreasing fatigue.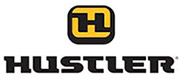 Affordable Zero-Turn Mower Financing Programs - Hustler, Gravely, Ariens and Country Clipper
- Designed for In-State and Out-of-State residence.
- Customer must be present in Bloomington, IL to complete financing and take delivery of product.

Application for Credit Local / In-State Residence

PDF Application
Please print and complete the form and submit to QTE by one of the following.
After application is approved, must be able to provide a signiture in person at our location.

MAIL or IN PERSON
Attn: Doug Wallem
Quality Truck and Equipment
1201 East Bell Street
Bloomington, Illinois 61701
FAX
Attn: Doug Wallem
309-662-5409
CALL QTE today for financing information & questions.
309-662-5344