Pro-Walk commercial lawn mowers are built for minimal maintenance and maximum performance.
FEATURES
7-Gauge Deck: Tough enough to take on any terrain, this lockable and floating fabricated deck is designed with a 1/4-inch reinforced leaded edge for added durability.
Adjustable Handlebars: These adjustable handlebars provide four height positions to accommodate operators of any size.
Ergonomic Controls: The ergonomic controls position the operator in a neutral position, reducing wrist and arm fatigue.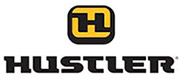 Affordable Zero-Turn Mower Financing Programs - Hustler, Gravely, Ariens and Country Clipper
- Designed for In-State and Out-of-State residence.
- Customer must be present in Bloomington, IL to complete financing and take delivery of product.

Application for Credit Local / In-State Residence

PDF Application
Please print and complete the form and submit to QTE by one of the following.
After application is approved, must be able to provide a signiture in person at our location.

MAIL or IN PERSON
Attn: Doug Wallem
Quality Truck and Equipment
1201 East Bell Street
Bloomington, Illinois 61701
FAX
Attn: Doug Wallem
309-662-5409
CALL QTE today for financing information & questions.
309-662-5344