Good For The Planet And Curb Appeal - Zevo
The Hustler Turf Zevo electric mower was built exclusively with the homeowner in mind. Clean lines, comfortable, easy to operate and maintain, the Zevo is user-friendly and environmentally friendly but also durable. Unlike our competitors who use flimsy stamped decks, all Zevo zero-turn residential mowers come standard with heavy-duty fabricated decks. The star of the Zevo is an all-electric system boasting up to 90-minute run time, 6-hour charge, and ability to mow up to 3.6 acres per charge.
FEATURES
Heavy-Duty Fabricated Deck: 11 ga. fabricated steel deck with reinforced steel along the trim edge.
Heavy-Duty Frame : 1" x 2" heavy-duty one-piece frame puts it at the top of the category.
Sealed AGM Batteries : Up to 90 minutes of run time with 6-hours for complete charge, the 48v battery system contains four 12v batteries. LED indicator prominently displays battery life.
Charge Time: The AGM battery system is fully charged in six hours. Charger can be plugged into any standard electrical outlet. No special connection required.
Compact Design: Easily fits through most gates making backyard mowing easy and ideal for garage storage.
BigBite Drive Tires: Industry exclusive 18" BigBite rear drive tires.
Specifications and Manuals
Hustler Zevo Specs
Hustler Zevo Owner's Manual
Hustler Residential Mowers Brochure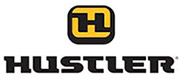 Affordable Zero-Turn Mower Financing Programs - Hustler, Gravely, Ariens, Country Clipper and Simplicity
- Designed for In-State and Out-of-State residence.
- Customer must be present in Bloomington, IL to complete financing and take delivery of product.
Application for Credit Local/In-State Residence
Please complete and submit the application online. Please click here.
After application is approved, must be able to provide a signiture in person at our location.


CALL QTE today for financing information & questions.
309-662-5344