A Stand-On With Exceptional Operator Comfort, Control And Maneuverability.
Hustler's Super S features superior operator comfort and positioning, operator-friendly controls and a compact stance that makes navigating tight spaces easy.
VX Deck: Fabricated 7 ga. steel engineered for extreme vacuum for enhanced performance and cut quality.
Compact Design: Small footprint, can go where other machines can't.
Service Friendly Design: Designed to make maintenance and service simple and easy.
Ergonomic Controls: Provides less operator fatigue, easy to handle.
Operator Comfort: Adjustable spring loaded suspension foot platform for all-day comfort.
Pulley Covers: Toolless removable pulley covers for easy maintenance.
Park Brake: Hand operated lever to set the park brake.
Cut Height Adjustment: Hand operated lever and pin to adjust deck/cutting height.
Wide Operator Platform: For all-day mowing comfort and operator stability.
Adjustable Foot Platform: Spring loaded suspension platform for all-day comfort.
Service Friendly Design: Designed to make maintenance and service fast and easy.
24" Rear Drive Tires: For superior traction. (48", 52", 60")
Adjustable Speed Controls: Allows you to go at your own pace for added control. Also helps with training new operators.
Specifications and Manuals
Hustler Super S Specs & Brochure
Hustler Super S Owner's Manual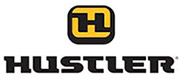 Affordable Zero-Turn Mower Financing Programs - Hustler, Gravely, Ariens and Country Clipper
- Designed for In-State and Out-of-State residence.
- Customer must be present in Bloomington, IL to complete financing and take delivery of product.

Application for Credit Local / In-State Residence

PDF Application
Please print and complete the form and submit to QTE by one of the following.
After application is approved, must be able to provide a signiture in person at our location.

MAIL or IN PERSON
Attn: Doug Wallem
Quality Truck and Equipment
1201 East Bell Street
Bloomington, Illinois 61701
FAX
Attn: Doug Wallem
309-662-5409
CALL QTE today for financing information & questions.
309-662-5344