Stacked and Compact - Surfer Pro
The Hustler Turf Surfer Pro is the latest edition to our stand-on mower family. With an overall length of 58.9 inches, the Surfer Pro has a smaller footprint than a traditional walk-behind or self-propelled push mower and even the smallest zero-turn mowers (like the Dash). The Surfer Pro is ideal for contractors who need to navigate tight spaces or have gated properties and would rather not walk. This stand-on mower may be compact in stature, but it still boasts a heavy-duty fabricated deck and Kawasaki engine. The Surfer Pro is a powerful tool in a contractor's overall lawn care arsenal.
Compact Design: Surfer Pro is 58.9 inches long. Perfect for tight spaces, trimming and backyards with gates. Lawn care pros will appreciate this compact tool. Takes up less space on a trailer. Ideal for commercial contractors and homeowners.
Kawasaki FS Engine: 15hp Commercial FS541 V-Twin Engine.
Welded Fabricated Deck: Hustler Turf lawn mower decks are constructed using heavy fabricated steel. During the build, we use 7 gauge steel on the 34" deck, 11 gauge steel on the 48" deck and reinforce impact areas with 3/8 inch x 1 inch steel.
Hydro-Gear ZT-1800 Transmissions: Hydro-Gear's most compact transaxle with a maintenance-free design. Provides smooth shifting between gears and even torque to handle mud, hills, or other lawn care challenges.
34" Model: The ideal unit to replace your traditional walk-behind or self-propelled push mowers. Budget friendly for the contractor who needs an essential tool. Also available in 48" deck. See dealer for details.
Specifications and Manuals
Hustler Surfer Pro Specs
Hustler Surfer Pro Owner's Manual
Hustler Commercial Mowers Brochure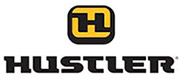 Affordable Zero-Turn Mower Financing Programs - Hustler, Gravely, Ariens, Country Clipper and Simplicity
- Designed for In-State and Out-of-State residence.
- Customer must be present in Bloomington, IL to complete financing and take delivery of product.
Application for Credit Local/In-State Residence
Please complete and submit the application online. Please click here.
After application is approved, must be able to provide a signiture in person at our location.


CALL QTE today for financing information & questions.
309-662-5344