The Biggest, Fastest and Strongest Stand-on - Super SF
The Hustler Turf Super SF is the newest and biggest addition to our popular stand-on family of mowers. This monster mower is for the busy commercial contractor who needs to mow large properties with speed and precision. The Super SF comes equipped with dual fuel tanks, our newest fabricated VX deck, and at 26 inches, we've got the biggest tires in the stand-on game. With a heavy-duty hydraulic system including 21cc pumps and Parker wheel motors, the Super SF can reach speeds up to 15 mph.
Electric Actuator Deck Lift: Easily adjust cutting height from 2.0" to 5.5". Quickly raise your mower deck on the fly to avoid obstacles.
A Hydraulic System on Steroids: Hydro-Gear 21 cc pumps combined with Parker TG wheel motors, a 6-quart reservoir capacity, and hydraulic cooling (8" fan) make up our industry-leading hydraulic system. Large high capacity pumps increase unit longevity.
Dual Fuel Tanks: Dual Fuel Tanks Dual tanks with 13.9" gallon fuel capacity for all day mowing and less downtime. When you stop to refuel, your productivity stops too.
Large Drive Tires : Rear tires measure 26" x 12." Currently the biggest stand-on mower drive tires on the market. Bigger tires equals better handling on hills and uneven terrain and creates an overall more comfortable ride.
Speed Control Bar Adjustment: Runs up to 15 mph with a reduced speed up to 10 mph. Perfect for training purposes and trimming.
Vanguard EFI Oil Guard: The Vanguard Oil Guard System is a revolutionary innovation that extends oil maintenance intervals to 500 hours. This EFI 40hp engine is optional on the Super SF.
Specifications and Manuals
Hustler Super SF Specs
Hustler Commercial Mowers Brochure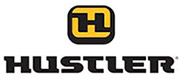 Affordable Zero-Turn Mower Financing Programs - Hustler, Gravely, Ariens, Country Clipper and Simplicity
- Designed for In-State and Out-of-State residence.
- Customer must be present in Bloomington, IL to complete financing and take delivery of product.
Application for Credit Local/In-State Residence
Please complete and submit the application online. Please click here.
After application is approved, must be able to provide a signiture in person at our location.


CALL QTE today for financing information & questions.
309-662-5344